Growing Up in Trengganu #93756
One day one
of our neighbours went to the circus and came back with a man. There was all talk and excitement in the neighbourhood as this was no ordinary man in leotards doing tricks on a trapeeze that she got hitched to, but someone from Circo Brasil, a country which most of us hadn't known.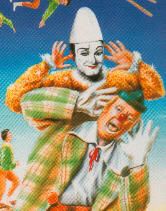 We've had many circuses come to town those days, but they were mostly manned by folks from further East, and I hated all of them as circuses weren't my favourite pastime, and all those motor-cycling up and down in a rounded cage and animals doing things at the leg-end of an upturned chair were just irritating distractions that adults insisted in foisting on us. I hated most the clowns, who were just sad, painted men.
But the Circo Brasil man changed all that for, besides my cousin who married an Egyptian, not many from our community were paired up with anyone else from across the oceans. We knew that Brazil was a faraway place and that marriages were made in heaven, but how was she to speak to him and what if he drank our
budu
neat, thinking it to be a drink? Those were questions that bothered us when we heard about our neighbour's impending marriage. I soon became interested in Circuses and all that went on beneath the tents.
Circuses came to town during the holiday season in those days, so someone in Brazil must've been keeping a close watch on the time-table for our school terms, just as turtles from beyond knew to swim our shores in August, as August was the month when everyone in Rantau Abang stayed up all night to look for them. That was how things worked in Trengganu then, according to motions and time: just when the shopkeepers raised their stocks in algae green paper umbrellas, the December monsoons would come a-lashing down, and it'd rain for weeks and weeks on end.
It rained on us too in our hot enthusiasm for the Brazillian man for, when our neighbour took him home, he turned out to be no Brazillian but a man from Batu Gajah perhaps, and Batu Gajah was just over the hill from us, not across the wide ocean. So we just let them get on with their married life, and the Circus too did the same, for, when they upped tents and headed out of town, our bridegroom from Circo Brasil became a Kuala Trengganu townsman.
Our Brazillian let-down notwithstanding we had quite a cosmopolitan crowd in our town even then. There were folk from over the hills whom we called the
orang luar
or outsiders who soon became very much like us local folk, eating
ikang
and walking the
jalang.
We had Pak Loh Yunang the booksellers, of course, Muslims from the province of Yunnan in China, but they soon adopted our ways right down to the batik sarong. There were of course the local Chinese who'd been in Trengganu more than a hundreed years, and whose best expression to me was Pak Awang.
Pak Awang was a necromancer with a silver tongue who'd walk the streets in his Chinese trousers, and in his hands, a green umbrella and his office-in-a-bag. He spoke Trengganuspeak like a native, and so he was, and appeared most afternoons at Wan Mamat's and spoke and spoke while the
kerepoks
boiled in the cauldron. Wan Mamat was one of two
kerepok
makers in our part of town. Each day, after the sound of the late afternoon
geduk
— the call-to-prayer drum — the fish would arrive in basket loads and Wan Mamat would supervise his wife and daughters in the cleaning of them while he continued to speak on various subjects to Pak Awang. Once I overheard them talk about the dark business of spirits, and Pak Awang, who was also a ghostbuster necromancerman, confided in him that spirits were put off by the bones of pigs, so whenever he did a spot of exorcism he'd prod his patients — some of whom were Muslims — with this handy object which he always carried in his little bag. "
Lepah tu aku samoklah pulok,*"
he told Wan Mamat who was reassured.
Soon as the
kerepok
was off the boil and placed in round woven baskets — hence
lekor,
Trengganuspeak for
lingkar,
the curling of long kerepoks in a round basket — Pak Awang would take his order and head home to his wife Mak Mek who was a
keropok lekor
reseller behind a bookshop in Chinatown.
In front of our house were Tamil shopkeepers, who were spice retailers and textile merchants, some hailing from a place called Mappilaikuppam in Nanilam, in the Tanjore district of Southern India. I know because some days I'd be diverted from my walk home from school by some of them who wanted to have addresses written on their envelopes of despatches and postal orders to their native village in Mother India. On Friday, the state holiday, a Nanilam man living in his shop in front of our house would pull out his harmonium and sing his mournful tunes to the empty market.
We could've had a Brazillian man pull out his Friday instrument to put a little Samba in our midst; but then as it turned out, he wasn't and he didn't, and he turned out to be just one of us.
--------------
*"I do the [Muslim] ritual cleansing afterwards, of course."

November 3rd, 2004