Growing In Trengganu
When I was
still a weedy lad, trying to grow up, a
chengal
tree was quietly growing old in the forests of Trengganu. The
chengal,
or the
Neobalanocarpus heimii
, is a hefty, resistant, hardwood tree that grows in Malaysia as well as in India,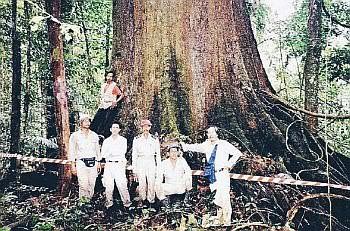 Thailand, Indonesia and the Philippines, and is a much revered tree in Terengganu where it is used in house-construction and boat-making.
The Trengganu
chengal,
believed to be 1,300 years old, is in the district of Dungun, and now ranks with the
Jomon Sugi
in Japan and the Giant Sequoia in California as one of the giant wonders of nature. It stands 65m tall; requiring 13 people linking hands spread out if the state of Terengganu (as it is now spelt) were to pass a law requiring citizens to be thankful and proud and go and hug this tree daily. They'd also be under the watchful eyes of the guards of the Pasir Raja Forest Reserve who now think that this is undoubtedly the biggest
chengal
tree in Malaysia if not the world. The forest reserve is located in the romantically named
Gunung Mandi Angin
— Mountain Bathed by the Wind — in Terengganu. The tree was discovered by forester Omar Mohammad in 1999.
"This is a big tree, "he said," rubbing his aching neck, "if this were to be felled, it'd require 27 lorries to transport the timber, and it'd be worth RM1 million."
But perish the thought, because that's not what he's got, for our old
chengal
tree.
Then, while everything
else was still and quiet, and the old
chengal
tree was dozing dreamily, came a great flapping noise from the forest of the Mountain bathed in the Windy-dee-dee. It's the flapping noise of elephants' ears, no a tree, also called Elephant's Ears, or the Giant
Alocasia
of Terengganu (as it is now spelt).
Another Forestry officer spotted something so big and quickly informed the Museum Board (strange people they answer to, these foresters of Terengganu) who soon sent not one but 150 researchers to examine these great, big flapping leaves of Gunung Mandi Angin.
Soon a pronouncement was made, and Terengganu (as it now is) was well on the way again to another record. The biggest
Alocasia
plants in the Malaysian peninsula.
"I've not seen the Alocasia grow this tall," said Datuk Dr Abdul Latiff Mohammad of Malaysia's National University. "They're normally about 1m high."
The Terengganu
Alocasias
are more than 2.4 m tall, a growth attributed to the fertile soil of the Mount of the Windy-dee-dee.
September 7, 2004