Morning Chiaroscuro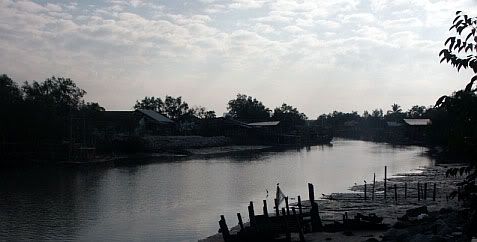 I took this
picture in Sabak Bernam, Selangor, Malaysia, at about 10.15 in the morning. We were waiting for a boat to take us to a
kelong
about 6 nautical miles out at sea. The river, Sungai Besar I think, was quiet, there was a solitary bird perched on a branch, and the opposite bank looked unfriendly and inaccessible. It wasn't too early, but the morning was gentle, still: the sun wasn't yet too bright, there were scaly clouds in the sky, and shafts of light were coming through in a most wonderful way. If you look closely at the sky you'll probably see some of that in the picture.
When I was a child I had a recurring dream of waking up early morning in a house by the sea in Kuala Trengganu. It was always very early, as the weak grey light was just coming into the house through the open front door which I couldn't see as there was a screen between it and me. But I could see the light coming in from the sides of the screen into the room, slowly lifting the remaining darkness of the previous night. It filled me with extreme melancholy, sitting in that semi-darkness,looking at a burgeoning day.
Looking at this picture now I feel a bit of that old melancholy creeping out from the cervasse of memory. Funny how the past can suddenly appear in a picture that was taken years later.
A
kelong,
by the way, is an off-shore structure built by fishermen to house fishtraps, and was built from tree-stems or bamboo. I was half-expecting to see that when the boat came to take us out to sea, but as we approached this
structure
at sea I realised that it was not made of wood but concrete, and was poised out there like an oil rig standing proud in a rough sea. This
kelong
actually called itself a Resort, with dorms and suites for people who fancy a few days out there listening to the ocean waves. The people I saw there were mostly fishing enthusiasts, with rods and all, and they looked very happy.
August 22, 2004