Jalang-Jalang Makang Ikang
Many thanks to
those who've written in to say hello, and to S who wrote an interpretation of my recurring childhood dream (
Morning Chiaroscuro
). My
Growing Up In Trengganu
series drew special interest, especially from people who remember some of the things I recall.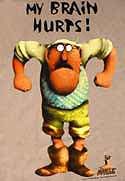 To AO who asked about the Kedai Yamada, (
Growing Up In Trengganu #28401
) the name wasn't my mother's invention. I remember her telling us that just before the Japanese Occupation, the shop was actually owned by one Mr Yamada. And my father used to speak of another Japanese person in Trengganu who was a food vendor, but soon as the Japanese administration came in, he became the Postmaster. I'm not suggesting anything about Yamada-
san
of course, he could've been an honest broker, but from accounts I heard (and am trying to remember), some Japanese forward soldiers were in Trengganu before the Occupation, playing seemingly innocent roles. I was very young when the stories were told, and now my brain aches to remember.
I was last in Trengganu more than 15 years ago, and the last I saw of the Abdullah al-Yunani, it had metamorphosed into another, and the name on the doorway was of someone who'd married into the family. The Yunanis, as I said, were long time Chinese-Muslim residents of Trengganu. As the name shows, they came from Yunnan, and later became Trengganuers in both language and culture, give or take a few slices of the celebratory cake during Chinese New Year. They had roots in Trengganu too in a most literal way for, just two doors away from the Abdullah al-Yunani was another shop, Ali al-Yunani. Ali was a Chinese herbalist and had jars and jars in his shop of herbs and roots and things that fascinated me so . I have an image still of Pak Ali, standing in the doorway, wearing his Muslim skullcap and Chinese trousers (just like Pak Awang), and wagging the strands of greying beard on his chin as he spoke to passers-by. He would've been the one person in Trengganu who could've transmuted metal to gold.
I'd like to record my thanks here to
Sangkelate
who drew my attention to a very interesting blogsite that also dabbles in matters Trengganu (though he spells it Terengganu, in the modern way). You may want to go there too, to read accounts from someone who was there when I was still a twinkle in my dad's eye: it's called — in true Trengganu style —
Di Bawah Rang Ikang,
and a fine site it is too.
Senyung sikik gok!
as we used to say in Trengganu; just smile, smile a little.
Note:
The Trengganu that I grew up in lived on
ikang,
fish. Our neighbours were mostly fishermen or
kerepok
makers, and everyday, around us, was the smell of fish. This was before off-shore petroleum, palm oil, and lumber. So, if you're wondering what the blog-title means, it's simply,
Walking and eating fish,
and I know you're sniggering, some of you posh
orang luar
people out there.
August 30, 2004